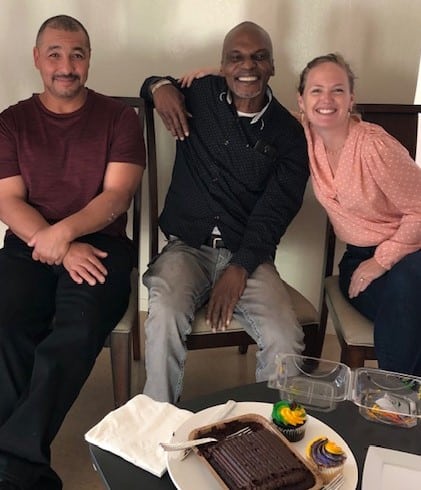 Johnnie B. finally has a home of his own. It isn't just another apartment, with a new lease, and a new landlord. It's his first home after ten years of living without a home altogether.
Johnnie has visceral memories of living on the streets. "Life was miserable homeless," he said. "You stay hungry. You stay depressed. You're afraid at all times. You sleep in abandoned cars and you don't know what could happen to you. You don't know if you're going to live or die."
After he fell seriously ill, Johnnie moved in with his sister in Richmond, but his housing remained unstable. A Contra Costa County social worker referred him to the Reentry Success Center in Richmond—a local nonprofit and BayLegal community partner that provides direct services to people impacted by incarceration, helping them to rebuild their lives in the community. Johnnie said that the Center's programming was life-changing: "They helped me with counseling. They helped me to restart my life all over. They provided transportation, meals. They took me back and forth to the doctor and to the program. They hooked me up with legal aid, and it went on from there."
To address his unstable housing, a counselor at the Center referred Johnnie to BayLegal for free civil legal aid. There, he met Andrea Crider, a Staff Attorney with BayLegal's Reentry Project. Andrea learned that Johnnie had been denied a spot for subsidized housing at a local public housing complex because he had bad credit. In examining his credit history, she learned that he had been targeted by a predatory lender, and that his credit issues were intrinsically tied to his disability.
In October 2019, Andrea wrote a letter to the housing complex demanding that they waive their credit policy as a reasonable accommodation under the Fair Housing Act, which outlaws discrimination against protected classes, including people with disabilities. Representatives of the housing complex wrote back the same day. "They said, 'we agree,'" Andrea recalled, "and they put him on the waitlist." But Johnnie didn't have to wait long. He had an interview the following week and was granted the apartment. In early November, he moved in.
"It meant a lot to me to see someone who has experienced the trauma that comes along with homelessness finally get his own apartment," Andrea reflected. "I'm happy to know Johnnie will have a roof over his head during the holiday season."
Johnnie recalled the steadfast advocacy that Andrea displayed both as an attorney and as a member of the community. "I love Andrea because she goes to bat for you," he said. "She found me furniture on her own time. She asked people to donate this or that. She didn't have to do that. That doesn't come with the job status!" Andrea helped Johnnie to find home furnishings after learning that he only had an air mattress. Thanks to her Facebook appeal for donations from the community, Johnnie now has a TV, dishes, pots, pans, a dresser, a crock pot, and a dinette set—all donated by complete strangers. "Andrea brought the furniture," Johnnie added, "and then we had a cupcake together to celebrate my first apartment."
Johnnie took a moment to reflect on other people who have lived, or who are living, experiences similar to his own—people who are unhoused or who live at risk of homelessness. "Everybody deserves a second chance," he said. "That's why the homeless population is what it is right now. No one wants to give you a second chance. People don't think people change, but they do. I know I have. I used to not care about anything. I gave up on life. I stayed to myself. I never wanted to be around people. My clothes were dirty, smelling bad. I had to go to a gas station and wash up. That kind of thing makes you ashamed."
Johnnie expressed profound appreciation for the independence, safety, and community that his new home affords him: "I can come in and out when I want to. I can lie down. I can watch TV. If I don't feel like going out, I don't have to go out. My grandkids can come visit me, and my family comes and visits me. I have a friend who comes by every day. I'm just happy, enjoying life now." ◊
The Reentry Project provides wrap-around legal services to people with arrest or conviction histories in order to help them successfully reintegrate into society.