Bay Area Legal Aid's Legal Advice Line serves as the virtual emergency room for civil legal problems in our community. According to Haydée Alfonso, General Counsel and Managing Attorney, "Our team of attorneys at the Legal Advice Line expertly triage over 100 callers per day, providing critical legal services, resources, and referrals to individuals who would lack access due to transportation or language barriers. However, this represents a fraction of the community demand for our services."
A new report from the Legal Services Corporation (LSC) shows that in the past year 86% of the civil legal problems reported received inadequate or no legal help. BayLegal was among the 133 LSC-grantees who contributed to the report. In 2017, LSC funding to BayLegal totals $4.1 million (over a quarter of our $16.1 million budget) and drives our ability to connect callers to the legal help they need.
Read the Executive Summary or the full 2017 Justice Gap report below.
The Justice Gap – Executive Summary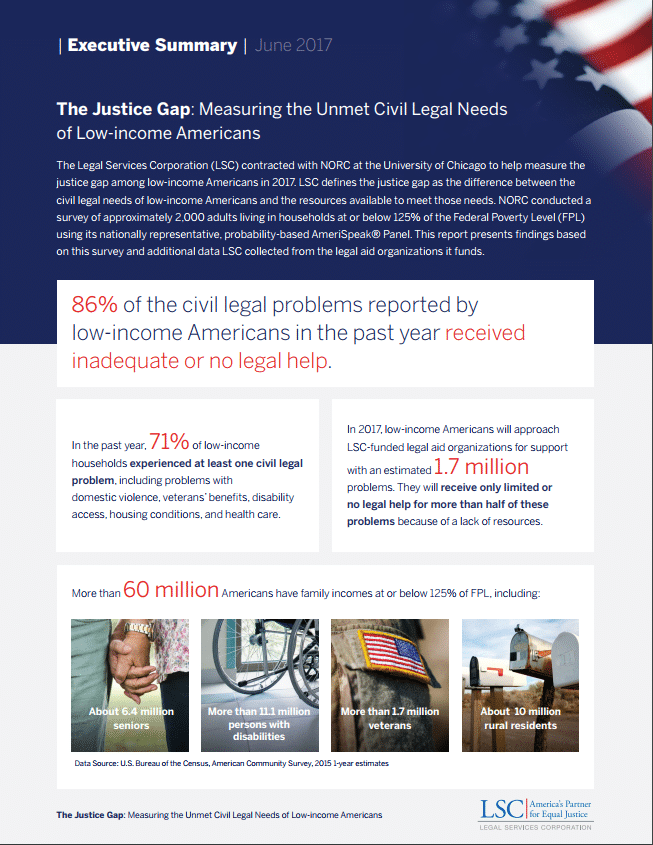 The Justice Gap – Full Report