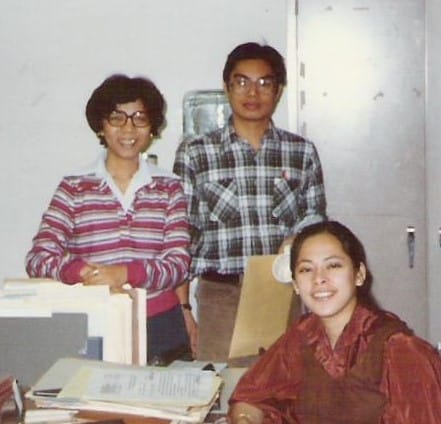 In this series, we will be sharing the recollections of BayLegal staff and stakeholders (current and former) about their involvement with our work: our fight against poverty and for social justice. It is a collective story involving many people who have played a part in our history. There is no single way to tell our story and no single voice to embody it . Thus, each individual story recorded here represents a building block of a collective story. In gathering these stories, we build a representation of the symphony of voices, experiences, and perspectives that have shaped BayLegal and our future.
We begin this series with someone who has seen it all: Bob Capistrano. On Wednesday January 8, 2020, we sat down with Bob to hear him share some of his memories from his 43 years of service in legal aid. He started out at the San Francisco Neighborhood Legal Assistance Foundation in the 1970s, was involved in the merger that formed Bay Area Legal Aid, and witnessed its growth as a regional anti-poverty law firm. He served in many different capacities, including as a VISTA volunteer, Staff Attorney, Managing Attorney, Director of Advocacy and Senior Litigation Counsel. He retired in 2019, after 43 years of service.
We hope Bob's story inspires you to think of your own role in our collective story. We invite you to send any reflections to anniversary@baylegal.org, for collection in our story bank.
Bob graduated from high school in Colorado in 1967. "It was all happening then," he said, reflecting on the social upheaval of the Civil Rights Era. "Things were really blowing up." He enrolled at the University of Colorado (lured by its tuition of only $70 a semester) but he felt a restless desire to move to the Bay Area—a hub for activism against the Vietnam War and for civil and human rights causes. While still a college student in Colorado, Bob would drive out to San Francisco to take part in anti-Vietnam war demonstrations at Speedway Meadows in Golden Gate Park, where the enormous crowds matched those seen today at music festivals, swelling into the hundreds of thousands.
With only a backpack in tow, Bob moved out to San Francisco in 1973 to attend the University of California, Hastings College of the Law. He recalled that the human rights injustices of the day inspired him to pursue a path in law—particularly the human rights abuses perpetrated under the auspices of the Vietnam War. There was "so much happening in the Bay Area in terms of civil justice," he explained. "There was the Central America anti-intervention movement, there was the Filipino movement. There was the movement to save the International Hotel and prevent the residents from eviction. There was the fight against the Marcos dictatorship."
In 1975, after graduating from U.C. Hastings School of Law, Bob became an AmeriCorps VISTA volunteer, through which he began working at the San Francisco Neighborhood Legal Assistance Foundation (SFNLAF). A year later, he accepted a position as a staff attorney. Bob explained that he was drawn to SFNLAF because it had represented tenants of the International Hotel, and because of the work it had been doing to change the ways that public and private entities treated people who were low-income. It was an interesting time to get into legal aid, he recalled, because it was before the rent control ordinance had been implemented in San Francisco, and it was before the city's demographics had been fundamentally altered by the effects of gentrification. So the housing cases he took on reflected the free-wheeling, bohemian nature of the city. For instance, he represented punk rockers in the Western Addition who were under threat of eviction, and a SOMA resident whose S&M business was threatened by another eviction. "[San Francisco] was just so much more diverse back then," Bob reflected, "and you could get by on a couple hundred bucks a month."
SFNLAF was a neighborhood organization with six neighborhood offices, each responsive to the unique challenges of the San Francisco districts in which it was stationed. There were six neighborhood offices: the main office at 7th and Market, which housed the Welfare Advocacy, Domestic Relations, and Women's Litigation Units; the Central City office in an alley off of 6th Street; one in Hunters Point; another in the Western Addition; the Chinatown office across from City Lights Bookstore; and another in the Mission (which, in a sign of the times, was known as the "Mission Collective" rather than the "Mission Office"). And he remembers that in its early days SFNLAF was staffed by young and inexperienced attorneys like himself. "We were all passion and no sense," he laughed. "This was shoot-from-the hip law. We had a lot of energy and no case acceptance guidelines. You took whatever came in. Our legal knowledge was a mile wide and an inch deep."
Driven by—or in spite of—its staff's energy and inexperience, the cases brought by SFNLAF fundamentally changed the landscape of poverty law and significantly impact the lives of people throughout the country to this day. In 1969, for instance, a young SFNLAF lawyer named Peter Sitkin successfully argued Wheeler v. Montgomery before the U.S. Supreme Court, arguing that disabled residents were being denied their constitutional due process rights because their Aid to the Permanently and Totally Disabled benefits (now the Supplemental Security Income benefits program) were being terminated by the state without an adequate hearing. That case was decided the same day as the famous Goldberg v. Kelly case, in which the U.S. Supreme Court established the right to a full hearing before someone's right to public benefits can be taken away.
Another successful SFNLAF class action, Lau v. Nichols (1974), was brought by parents in San Francisco's Chinatown, who found that their children were at a disadvantage in the city's English-only classrooms. That case established the right to bilingual education in California. Yet another watershed case, Green v. Superior Court (1974), came out of SFNLAF's central city office, and established implied warrant of habitability in California. As a result, California landlords must maintain rental properties in habitable condition during the course of a lease.
Of all the cases that Bob has managed and litigated over his 43-year career, he identifies Neville v. Randolph (1988) as the most impactful. That case requires that the City of San Francisco buy DMV identification cards for recipients of General Assistance. Bob explained that the case took shape through 40 individual advocacy cases that were represented by the General Assistance Advocacy Project, where advocates recognized that people were repeatedly being denied or kicked off of General Assistance because they had lost or could not afford ID cards. Over the years, the success of the resulting lawsuit has brought about untold monetary benefits for people who, if not for the suit, would have been denied those benefits. "A DMV ID is $15," Bob explained. "If you multiply that by the thousands of people who have benefited, and include the amount they have received in benefits as a result," the impact of this under-the-radar case is astounding.
When SFNLAF merged with Legal Aid Society of Alameda (1998), and then Contra Costa Legal Services Foundation and Community Legal Services of Santa Clara County to become Bay Area Legal Aid in 2000, the result was a pooling of minds and resources to reach a greater swath of the Bay Area population: it was "the expanding of access to information and representation," Bob explained. But SFNLAF's DNA remains encoded in BayLegal as we know it today. For example, SFNLAF's case acceptance model—established in the 1980s to help the organization through the resource-starved years of the Reagan Administration, which drastically slashed the federal budget for civil legal aid services nationwide—were implemented at BayLegal in order to formalize the organization's original priorities: 1) health welfare, 2) housing, and 3) domestic violence prevention.
Bob explained that, as BayLegal has evolved over the years to look beyond those three priorities, it has blossomed in other legal areas to become more conscious of and responsive to the different problems that affect members of our community. For example, some of the people who face the most social and economic disadvantage "are youth leaving the dependency system, and ex-prisoners, many of whom are people of color," he said. BayLegal has created practice areas to address those areas of need, and has launched an initiative to address the intersection of racial injustice in all practice areas.
Bob offered several reflections on the lessons he has derived from this work over the years, and how those lessons have formed a vision for the future. On a legal and political level, Bob advised, "Don't trust solely in the courts." On a personal level, "[have] a sense of proportion so you don't get overwhelmed by the cases. Take care of yourself. Challenge yourself." For Bob, taking care of himself has meant "exercising a heck of a lot" and "having a sense of proportion so you don't get overwhelmed by the cases."
On an organizational level, Bob explained that BayLegal's deepening consciousness of and responsiveness to the crises facing our community—most notably, the affordable housing crisis—signal that employment advocacy will take on an ever more crucial role in the firm's practice. He cited the Legal Barriers to Employment program as the first firm-wide response to the many barriers that prevent low-income people from accessing stable employment. He sees a strong link between housing instability and barriers to employment, noting that the lack of affordable housing has reached crisis levels in part due to the changing contours of the labor market. "Homelessness and unstable housing are symptoms of the fact that the old jobs have disappeared, such as factory jobs. I foresee a foray into employment advocacy as being the next place to go."